Silver Level - $5,000
This level is perfect for companies that want to attend NSA events and have their name highlighted.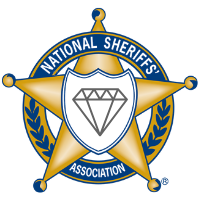 As a Silver Partner you will receive increased exposure within the association with discounts on booth spaces at each conference as well as 'thank you' signage at each conference. This level is perfect for companies that want to attend NSA events and have their name highlighted. 
Discount on Booth at Annual Conference
Receive 15% off one 10x10 booth at NSA's Annual Conference.  This offer includes 2 full conference registrations as well as 2 chairs, one 6' table, carpeting and draping. Exhibiting at the Annual Conference is your best way to reach the buying power of the nation's Sheriffs. Your competition will be there, and so should you!
Discount on Tabletop Exhibit at Winter Conference
Receive 15% off one tabletop exhibit at NSA's Winter Conference.  This includes a 6' skirted tabletop, 2 chairs, carpet, and 2 full conference registrations. At this Conference in Washington, DC, you will meet high-level leadership from federal agencies, members of Congress, and Sheriffs who come together to discuss pending legislation and trending technologies/products.
Priority Booth Selection
As a Silver Partner you will receive 4th choice of exhibit booth location for the following year (after Diamond, Platinum, and Gold Partners).  This affords you the privilege of selecting the most favorable locations before most other conference exhibitors. 
Discounted Rates on Advertising
Receive access to discounted advertising rates offered to Corporate Partners only.  This includes full page ads in Sheriff & Deputy Magazine, banner ads on the NSA website (www.sheriffs.org), webinar sponsorships, social media posts, as well as ads in NSA Newsletters. Offerings subject to change each year.
Discount on Annual Sheriffs' Directory
Receive 1 free printed version of NSA's Annual Sheriffs' Directory as well as 15% off the digital version (excel and/or pdf). The Annual Sheriffs' Directory is published each year in the spring. It reflects the results of recent elections and is updated with current information on all the newly-elected Sheriffs, state Sheriffs' association information, and an alphabetical listing of all U.S. Sheriffs.  It is an indispensable reference tool!
Signage and Recognition
Your company logo is featured on NSA's Thank You signage at both the Winter and Annual Conferences. This will highlight your company to all of our attendees. 
Pins
Your company will receive 1 complimentary Corporate Partner pin to highlight your partnership. 
Current Silver Partners
---
For more information, please contact:
Lindsay Hopkins
Sponsorship & Partnership Sales Manager
703.838.5343
lhopkins@sheriffs.org