Active Shooter/Hostile Event Guide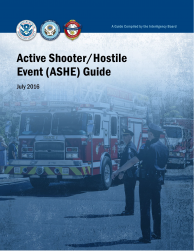 This guide is designed to serve as a template and checklist for preparing Active Shooter/Hostile Event (ASHE) specific plans and procedures including incident command, emergency communications, medical, training and exercises, community outreach and citizen engagement, equipment, and incident specific considerations for ASHE specific threats and responses (active violence, fire as a weapon, explosives, civil disturbance). It also includes a resource guide that includes terms and definitions and example Memorandums of Understanding (MOU)/Memorandums of Agreement (MOA) for formally documenting the resources and commitments each agency and jurisdiction should make when planning and executing a multi- agency/multi-jurisdiction ASHE incident plan.
The document is unclassified and contains no caveats restricting dissemination.