NSA Post-Pandemic Drug Detection Care Package Initiative
FREE Drug Detection Test Kits for Sheriffs
The National Sheriffs' Association (NSA) and SwabTek are proud to announce the NSA Post-Pandemic Drug Detection Care Package initiative.  This initiative is designed to equip sheriff's offices across the country with the tools they need for drug detection efforts free of charge as the country starts to recover and reopen.
About the Initiative:
SwabTek manufactures the world's only dry reagent detection tests for narcotics and explosives. The tests rely on swab-based sample collection, allowing officers to screen for threats on any surface, and in liquid and solid samples. The tests are safe and intuitive, and have been successfully deployed by hundreds of law enforcement organizations to thousands of officers around the world. SwabTek's tests are inexpensive, portable and self-contained, providing sheriff's offices a simple and flexible tool to equip members of their team with drug detection technology.
NSA has partnered with SwabTek to provide a free Care Package of their detection test to sheriff's offices nationwide. Each Care Package includes a variety of SwabTek test kits to help Sheriffs equip their officers with these invaluable tools, free of charge.
With law enforcement budgets feeling the constraints of the pandemic, and drug abuse and overdoses on the rise, NSA wants to ensure that our sheriff's offices are still equipped with the tools they need to do their jobs safely.
About the Detection Tests:
All SwabTek test kits are presumptive field tests, and rely on swab and dry reagent technology. Officers will use SwabTek's test swab to collect a sample from any surface, solid or liquid. The swab is then combined with the reagent on SwabTek's test card, and a positive result is indicated by a color change. The entire testing process takes no more than 30 seconds, and provides simple and easy to analyze results.

Each Care Package includes the following:
How to Order:
1. Select the view button below to visit and add the Care Package shopping cart listing to your shopping cart.
2. Please ensure to add the name of your department to the "Company" field at checkout. All orders for this product will be verified before shipment to ensure that the department is eligible.
3. Participating NSA Sheriff members can enter their promotional code (received via email) at checkout to receive their care package for free. If you did not receive a code, please email nsa@swabtek.com.
This offer is available as supplies last on a first-come-first-serve basis. Limit one per department.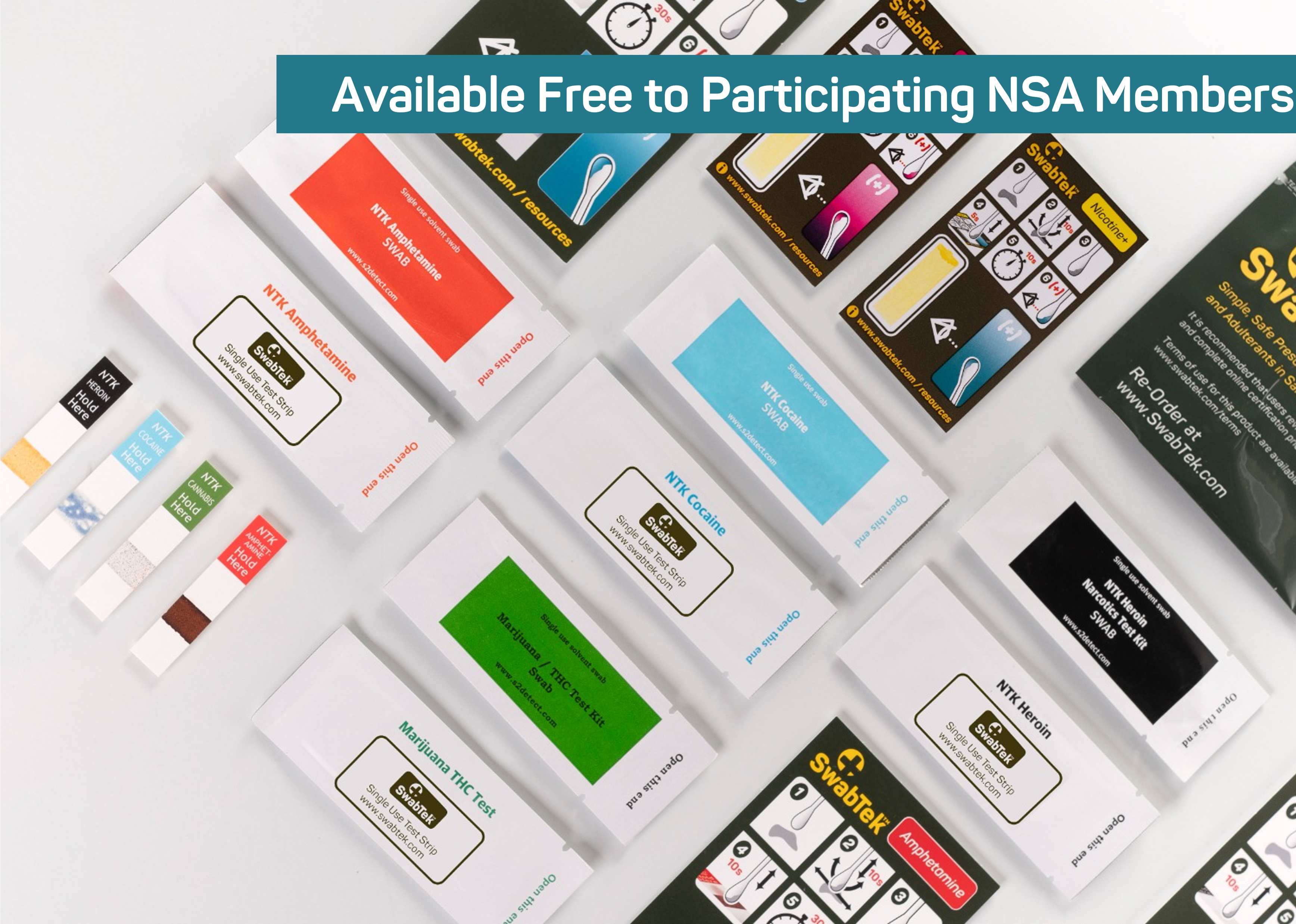 NSA Post-Pandemic Drug Detection Care Package
62 Total Test Kits
Available free of charge with promotional code
---
Please Note: NSA is solely the marketing entity and shall not be held responsible for any product use or misuse, defects, or results. In no event shall NSA be liable for any punitive, exemplary or consequential damages, anticipated or lost profits, incidental damages, loss of time or other indirect losses or expenses that arise from any cause relating to or arising from the use or misuse of the product, regardless of the form of the action. All SwabTek test results should be confirmed by an approved analytical laboratory.