Sheriff of the Year
The National Sheriffs' Association established the Ferris E. Lucas award in 1995 to recognize an outstanding sheriff of the year for contributions made to improve the Office of Sheriff on the local, state, and national levels
2020 Ferris E. Lucas Sheriff of the Year
Sheriff John "Big John" Williams, Sr. (posthumously)
Lowndes County Sheriff's Office, Alabama
Nominated by:
Sheriff Derrick Cunningham
Montgomery County Sheriff's Office, Alabama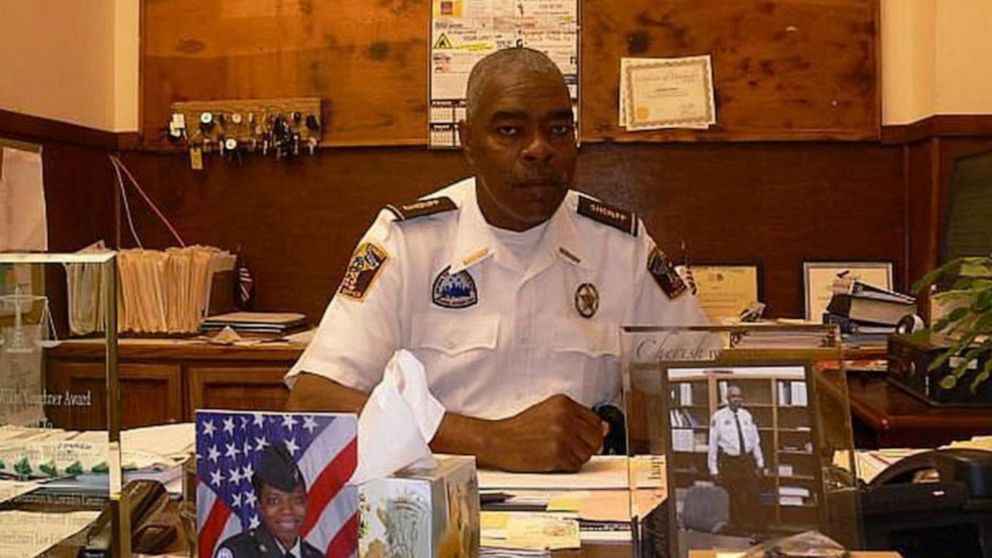 Sheriff "Big John" Williams, Sr. was elected to Sheriff in Lowndes County, Alabama, in January of 2010. Sheriff Williams overwhelmingly was re-elected to two (2) more terms following his first election. Sheriff Williams was a pillar in his community receiving honors from churches and schools for his work in the communities. Sheriff Williams was killed in the line of duty on November 23, 2019, while responding to a disturbance call at a local convenience store in the town of Hayneville. There were hundreds of law enforcement officers including at least twenty-five (25) Sheriffs from all over the State, who responded to the scene on the night of his murder. Many of the officers and Sheriffs coming from as far as two to three hundred miles away.
Sheriff Williams leaves behind a wife, Joann "Ann" Williams, a daughter, Shanice Williams, two (2) sons, John Williams, Jr., JeMikel Rudolph and two (2) grandchildren, Jayland Williams and Jace Means. Sheriff Williams was laid to rest on December 2, 2019, with his beloved community rallying around him with praise and worship. He was a pillar in the community and the love and support they had for him was moving and touching until they placed him in his final resting place. The entire county paused on December znd, to bid farewell to their beloved Sheriff. Many businesses and all schools were closed so that everyone could attend his funeral and bid their final farewell, love and support to a community leader, who was cherished by all.
Sheriff Williams will always be remembered as a Pillar of the Communityfrom his "bridging the gap" between the citizens and the Lowndes County Sheriffs Office to being a "shoulder to lean on" at any time, day or night. He provided a conduit so that the citizens had a way of expressing themselves and his agency had a way of reaching out to the community to be more than just a law enforcement agency. Sheriff Williams was a true friend to all and while he had the mind of law enforcement, he welcomed everyone with open arms, a smile on his face and was ready to assist in any way he could for all those that he encountered. He often spoke about his community being the "eyes and ears" for their fellow neighbor /friend, which led to solving numerous cases. This alone spoke volumes about his commitment to support his community.
Sheriff Williams personal involvement with the community was hard to detect from work involvement as he was a Sheriff 24 hours a day, 7 days a week. While he rarely veered away from his loyalty to the citizens of Lowndes County, he could be seen attending every athletic event that occurred in his county which attended to the public and private schools. On Wednesday nights, he could be found attending Bible Study at Hayneville Baptist Church. While Hayneville Baptist Church is one of the largest churches in Lowndes County, it has a mixture of all facets of the Community. He was also respected for his service as a Deacon at the Original Shiloh Primitive Baptist Church which ultimately was his final resting place. 
Sheriff Williams was not only a leader in his community but a leader in his household as well. After graduating in 1976, from Calhoun High School, he went on to marry Mrs. Ann in 1987, and was later blessed with two (2) sons. As the good Book teaches us about trials and tribulations, Sheriff Williams remained a man of faith when different aspects were placed in his path. One of his sons, John, Jr., was diagnosed with an illness that affected his kidneys; and without a kidney transplant, his chances of living were minimal without lifelong medical assistance. Sheriff Williams didn't hesitate to begin testing to see if he was a match for his son. He received positive results and was able to donate a kidney to John, Jr., saving his life without hesitating so his kind, giving spirit exceled far beyond just his career. After the kidney transplant, John, Jr., was able to resume living a normal life and blessed Sheriff and Mrs. Ann with their first grandchild. This alone demonstrates the love for his family and that he was willing to sacrifice his own life for his family. Sheriff Williams true testament was tested again when Mrs. Ann was diagnosed with cancer. While she continues to struggle with her treatments, Sheriff Williams was her number one supporter and assisted her with all her doctor's visits up until the very end. I know her family will take over caring for Mrs. Ann; however, there will only be one "Big John".
Many people don't think about the administrative side of law enforcement, but it does exist, and Sheriff Williams was a true servant in that capacity as well. He was a dedicated and financial member of the Alabama Sheriffs Association. Additionally, he served on the Executive Board for the Association holding the position as the Sergeant at Arms. He was present at every conference as well as every special call meeting before his dedication called for his nomination to serve on the Executive Board. Furthermore, he dedication extended past the local level and on to the National Sheriffs' Association. His attendance was known at every national winter technology conference in Washington, DC, since 2014, as well as every national summer conference, throughout the United States.
As you can see, it's hard to put into minimal words, the dedication Sheriff "Big John" Williams put into his community, both personally and professionally. He was the Sheriff (24/7) whereby members of his community could contact him about any issue and know the matter would be resolved. The entire community maintained his personal cellphone number in case they needed him in any capacity; he was always there for everyone! Being in the profession myself, I know firsthand how hard it is to be a peacemaker and/or leader of an agency. You are held to certain standards both personally and professionally and expected to handle any issue. "Big John" was that person that could maintain all statuses within his community with pride and dignity; for this reason, I nominate him for the "Ferris E. Lucas Award Sheriff of the Year". Sheriff Williams has proven on numerous occasions his loyalty and dedication for his community which was carried out until the very end when he gave the ultimate sacrifice, his life. 
---
The Alabama Sheriffs Association is proud and honored to place Sheriff Big John Williams' name, Lowndes County, Alabama, in nomination for the Ferris E. Lucas Sheriff of the Year award.
Even prior to his election as Sheriff of Lowndes County in November 2010, Big John was well known among the Sheriffs of Alabama. His big presence and booming voice demanded attention and respect which reinforced his beloved nickname in his county and the law enforcement community statewide and nationwide. Big John regularly attended conferences and training hosted by the Alabama Sheriffs Association and the National Sheriffs Association. His life and career were cut short while answering a routine call of disturbing the peace when he was shot and killed; and both the State of Alabama and the United States of America have felt the loss of the life of this honorable Sheriff.
All consideration given will be an honor to the Sheriffs of our nation and the National Sheriffs Association for Sheriff Big John Williams to be named posthumously as Sheriff of the Year.
Respectfully, 
Robert D. "Bobby" Timmons
Executive Director
Alabama Sheriffs Association
The National Sheriffs' Association established the Ferris E. Lucas award in 1995 to recognize an outstanding sheriff of the year for contributions made to improve the Office of Sheriff on the local, state, and national levels, and for involvement in the community above and beyond the responsibilities required. The award is given in memory of Ferris E. Lucas, NSA Past President (1944-46) and executive director (1964-82), who completed 50 years of distinguished service and leadership in law enforcement.
This award is sponsored by TurnKey Corrections
---
Previous Winners
2019  Robert Gualtieri - Pinella County, FL
2018  Keith Cain - Daviess County, KY
2017  Mike Brown - Bedford County, VA
2016  Michael J. Bouchard - Oakland County, MI
2015  John Lenhart - Shelby County, OH
2014  Doug Gillespie - Clark County, NV
2013   Leroy Baca - Los Angeles County, CA
2012   Paul D. Laney - Cass County, ND
2011   Paul Babeu - Pinal County, AZ
2010   Jerry "Peanuts" Gaines - Warren County, KY
2009   Mark H. Luttrell, Jr. - Shelby County, TN
2008   John Cary Bittick - Monroe County, GA
2007   Edmund M. "Ted" Sexton, Sr. - Tuscaloosa County, AL
2006   Joseph W. Oxley - Monmouth County, NJ
2005   Patrick McGowan - Hennepin County, MN
2004   Dave Reichert - King County, WA
2003   Kevin Beary - Orange County, FL
2002   Bob Garvey - North Hampton, MA
2001   Patrick Sullivan, Jr. - Arapahoe County, CO
2000   Stanley Glanz - Tulsa County, OK
1999   Bill Hutson - Cobb County, GA
1998   Tim Hutchison - Knox County, TN
1997   John R. Newhart - City of Chesapeake, VA
1996   Charles A. Fuselier - St. Matin Parish, LA
1995   Bob E. Rice - Polk County, WI