Crime Victim Services Award
Now accepting nominations for the 2021 Crime Victim Services Award! Applications due 1/22/2021
NSA recognizes that victims of crime have unique needs and that appropriate assistance to victims should be provided by law enforcement as early as possible in the response process. In an effort to focus more national and local attention on law enforcement services provided to victims of crime, NSA annually recognizes a Sheriff 's Office that has demonstrated outstanding achievement in support of victims with the NSA Crime Victim Services Award. Established in 2005 with funding support from the Office for Victims of Crime, the award has been generously sponsored by Appriss Insights since 2008.
Nominations for the Crime Victim Services Award may be submitted by any individual or organization. The Sheriff of the nominated Office must be an NSA member. Nominations should include a brief overview of the Sheriff 's Office, and then address the following questions, in addition to any other achievements of the Office that the nominating individual or organization may wish to highlight:
What accomplishments has the nominated Sheriff 's Office made on behalf of crime victims and how are those accomplishments innovative and unique?
How has the nominee's victim services and/or programs impacted the local citizenry?
How have the actions of the nominee influenced the policies, practices, and attitudes toward crime victims by its other governmental/non-governmental partner organizations in the community?
The deadline for receipt of nominations by NSA is January 22, 2021.
To nominate a sheriff's office for this award, please send a description of the victim services program with an explanation of why the agency is deserving of the award. Nominations should be no more than 10 pages in length including attachments.  E-mail nominations to the attention of Jessica Vanderpool at jessica@sheriffs.org.  For further information, contact Jessica at 703-838-5303.
---
2020 Crime Victim Services Award Winner
Harford County Sheriff's Office (Maryland)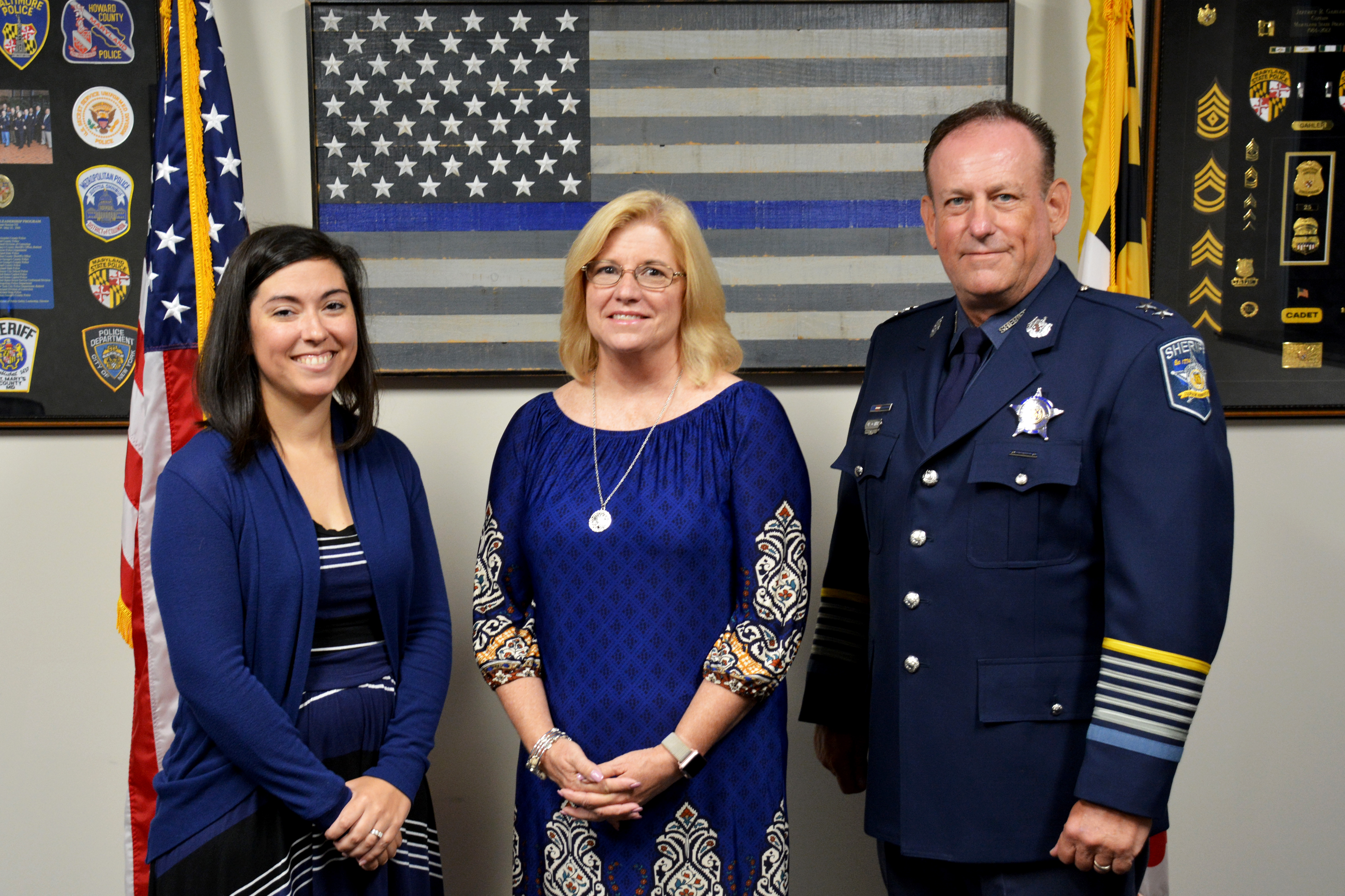 The Harford County Sheriff's Office (HCSO) started its Victim Services Unit (VSU) in the late 1990's.  The VSU works with victims of all Part 1 Crimes and their direct services include victims of the following crimes/incidents: Homicide and Attempted Homicide, Rape and Attempted Rape, Sex Offenses, Unattended Deaths, SIDS/SUDI Deaths, Home Invasions, Serious Assaults, Robbery and Attempted Robbery, Police Involved Shootings, Overdose Deaths, Accidental Deaths, Suicides, Abductions and Attempted Abductions, False Imprisonment, Hostage/Barricade Situations, Fatal Motor Vehicle Crashes, and Fatal Fires.  The VSU is available for on-call crisis response services 24 hours a day, 7 days a week, and 365 days a year.  Victim Advocates can respond directly to the crime scene or hospital to assist victims/survivors, provide trauma-informed services and make death notifications.  In 2019, VSU received a total of 271 reports and assisted 779 victims of crime or violence. VSU also responded to 59 callouts, providing crisis response to 197 victims. Finally, VSU conducted 10 hours of community outreach and provided 35 hours of instruction.
The VSU is staffed by Victim Advocates, Ms. Debbie Bradley and Ms. Kara Dager. Ms. Bradley holds a B.A.Sc. in Criminal Justice and has served as the HCSO's Victim Services Coordinator for over sixteen years.  Ms. Bradley is a Nationally Accredited Victim Advocate (C.A. – Victim Intervention Specialist) and is a certified Victim Assistance Specialist (VASIII) in Maryland.  Ms. Dager holds a B.S. in Biblical Studies with a concentration on counseling.  An employee of the HCSO since 2005, in 2009, Ms. Dager took a new position to start the Trauma Recognition and Coordination (TRAC) program with grant assistance from GOCCP under the Children's Justice Act (CJAC) grant. The goal of TRAC is to utilize contact of the HCSO deputies during their normal duties to identify children who have been a direct or indirect victim of crime or violence. In 2019, TRAC reviewed 771 cases for referral to additional resources.
In summary, the VSU provides a robust array of services which daily benefit the victims of crimes in our community. The individuals making up the VSU, Mrs. Bradley and Mrs. Dager, are hardworking, dedicated, and accomplished in their field. Their efforts and perseverance have helped see Harford County through some of its darkest days and they continue to serve the citizens of our jurisdiction and beyond.
---
Past Recipients
2019 San Francisco Sheriff's Department
2018 Marion County, South Carolina, Sheriff's Office
2017 Canyon County, Idaho, Sheriff's Office
2016 Charleston County, South Carolina, Sheriff's Office
2015 Fayette County, Kentucky, Sheriff's Office
2014 Arapahoe County, Colorado, Sheriff's Office
2013 Orange County, Florida, Sheriff's Office
2012 Travis County, Texas, Sheriff's Office
2011 Orangeburg County, South Carolina, Sheriff's Office
2010 Douglas County, Colorado, Sheriff's Office.
2009 Cherokee County, North Carolina, Sheriff's Office.
2008 East Baton Rouge Parish, Louisiana, Sheriff's Office.
2007 Pinal County, Arizona, Sheriff's Office.
2006 Monroe County, Georgia, Sheriff's Office.
2005 Lafourche Parish, Louisiana, Sheriff's Office.