Corrections/Jail Innovations of the Year Award
This award is new to NSA. It was created to recognize an individual for their innovative contributions made to their jail or correctional facility.
2020 Corrections/Jail Innovations of the Year Award
Jail Administrator William Weiss
Vilas County Sheriff's Office, Wisconsin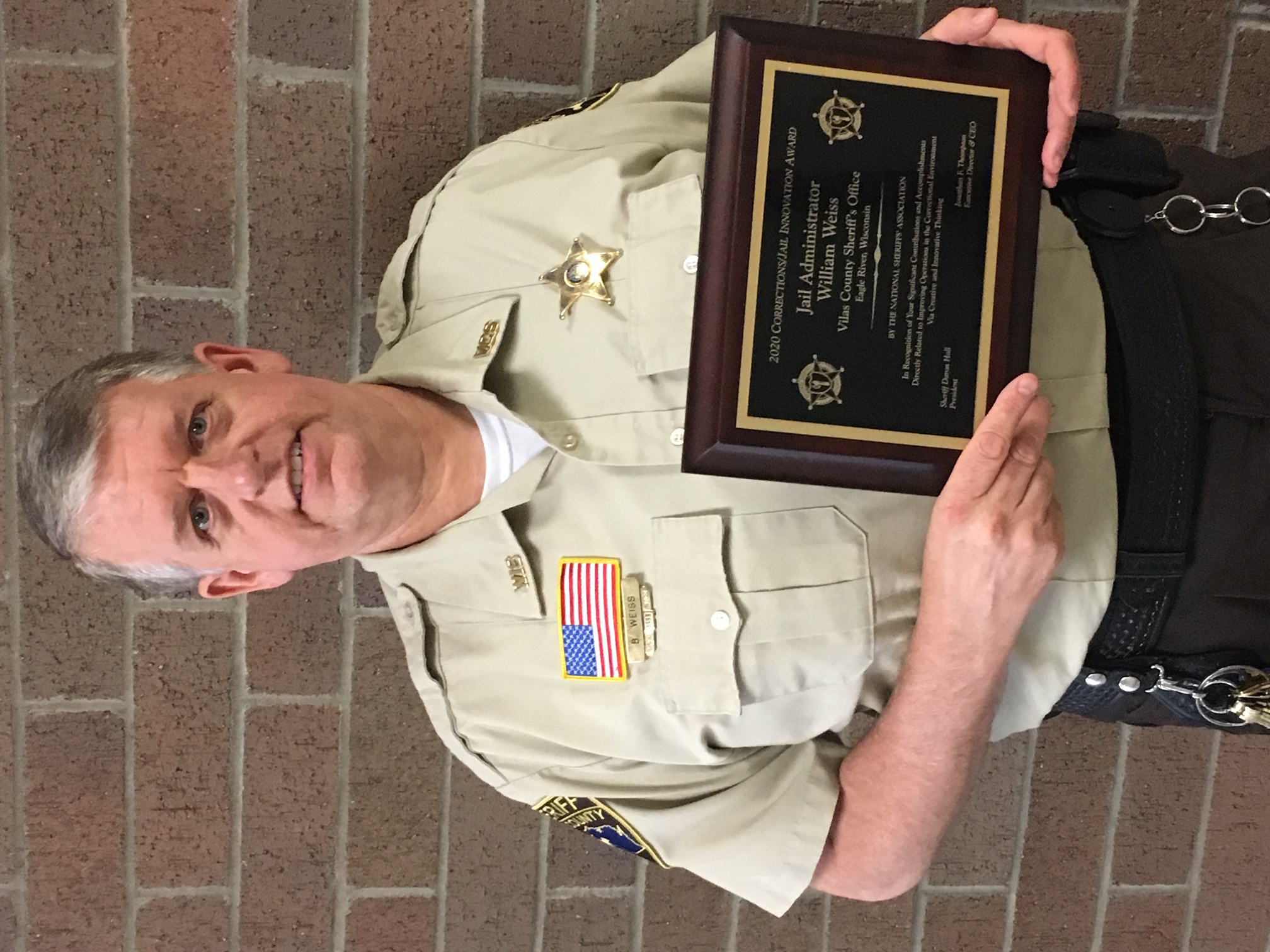 I would like to nominate my Jail Administrator, William Weiss, for this award. Bill approached me in 2018 to discuss how we could start a Recovery Program in the Vilas County Jail. We had an increasing number of inmates that were addicted to opioids, heroin and methamphetamines. This included many pregnant women that required follow-up medical appointments every week.
Mr. Weiss coordinated a meeting with John Shinholser from Richmond Virginia, to talk about his McShin Foundation. Shinholser's foundation works with individuals seeking recovery from the disease of addiction. Mr. Shinholser spoke with groups of our inmates about his foundation. This started an interest by our inmates and staff to work on a similar program.
We also partnered with an addiction treatment program on our reservation. Gookomis Endaad Treament Facility worked with Bill Weiss to start a referral program from the jail to their 90-day inpatient program. Gookomis Endaad (Grandmothers House), helped us to start a program in our jail for addiction recovery. We also partnered with the Peter Christensen Health Center from Lac du Flambeau, WI as well as addition programs on the Lac du Flambeau Reservation.
Bill Weiss saw that our recovery program, which included Moral Reconation Therapy
(MRT), needed to have a separate housing area for the inmates that were participating. When the participants returned to the general population they had difficulty doing their homework and maintaining a positive attitude about addiction recovery. Other inmates were having a negative influence on the participants.
Bill Weiss was able to work with our staff and create two recovery housing PODS. This included an eight-bed recovery POD for women and a fourteen-bed recovery POD for men. These are designated for the MRT program.
The Vilas County Readiness For Recovery Program has evolved to include MRT, Circle of Change - Empowered Affiliates, Wisconsin Department of Corrections, Lac du Flambeau Spiritual Mentor, and the Marshfield Clinic Health Systems Americorp RecoveryCorps.
Vilas County has partnered with our Department of Social Services, University of Wisconsin Extention Office, Lac du Flambeau Tribal Planning Department and or area HOPE Consortium to apply for funding to continue these programs and also fund medical assisted treatment using Vivitrol in coordination with the Addiction Recovery treatment.
We have included an Epidemiologist as part of our group. She will assist us to identify and measure what is working in our program to quantify our results in order to control the disease of addiction.
William Weiss has taken the lead on the recovery programs and coordinated the group of facilitators that we have in our jail. The group gets together regularly and discusses how each program fits together in the treatment of our inmates.
I have attended several of our program graduations in the jail. I am always amazed when the graduates speak about how thankful they are to have attended these programs and how this has given them hope to change their lives. The graduations really tell me how important is was to have started this in our jail. I have also had some graduates approach me in our communities and talk about how well they are doing, or talk about being successful in getting their children back with them.
Mr. Weiss will be the first person to admit that he is one part in the whole recovery program however, without Bill leading our efforts, this may never have succeeded as it has. 
Thank you, 
Joseph A. Fath, Sheriff
---
Previous Winners
2011  Jeffrey Jarvis - Brevard County, FL
2012  Lieutenant Todd Calkins - Rockwall County, TX
2013  Major Ricky Frye - Loudoun County, VA
2014  Deputy John Russell - Yavapai County, AZ
2015  Sergeant Richard "Todd" Bailey - Pinellas County, FL
2016  Chief Jailer Tommy York - Clarke County, GA
2018 K-9 Sergeant Lisa Graves - Marion County, IN
2019 Sheriff Craig D. Apple - Albany County, NY