Sheriffs Deliver Letter Supporting ICE Funding to Capitol Hill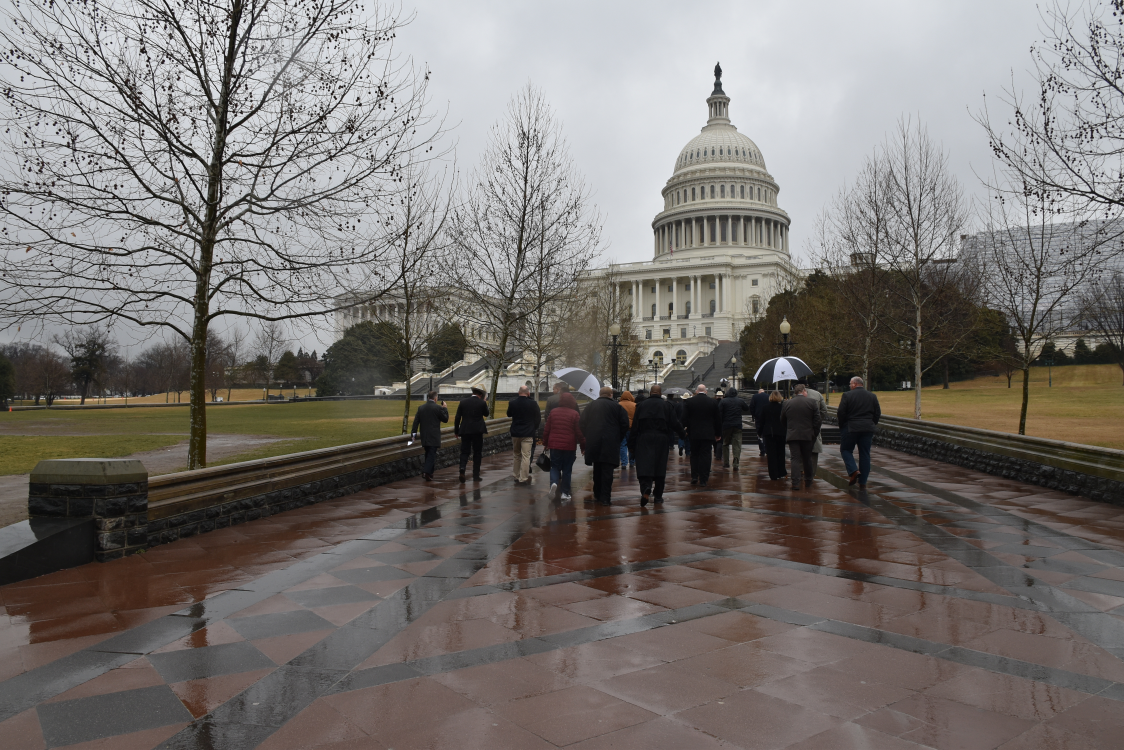 While in Washington DC for NSA's 2019 Winter Legislative and Technology Conference, nearly 60 sheriffs and other law enforcement officers headed over to Capitol Hill to hand-deliver letters to both the Senate and the House of Representatives, voicing their concerns over a possible cap on Immigration and Customs Enforcement's detention capacity. "Capping the number of detention beds utilized by ICE not only jeopardizes the integrity of the immigration system but would cripple ICE's ability to detain criminal aliens and other aliens who pose a risk to public safety or are a flight risk," the letter, signed by both the National Sheriffs' Association and the Major County Sheriffs of America, reads.
"If you don't have the resources there to detain these people, then you're not protecting the security of this country," Texas Sheriff Christopher Kirk commented during their visit.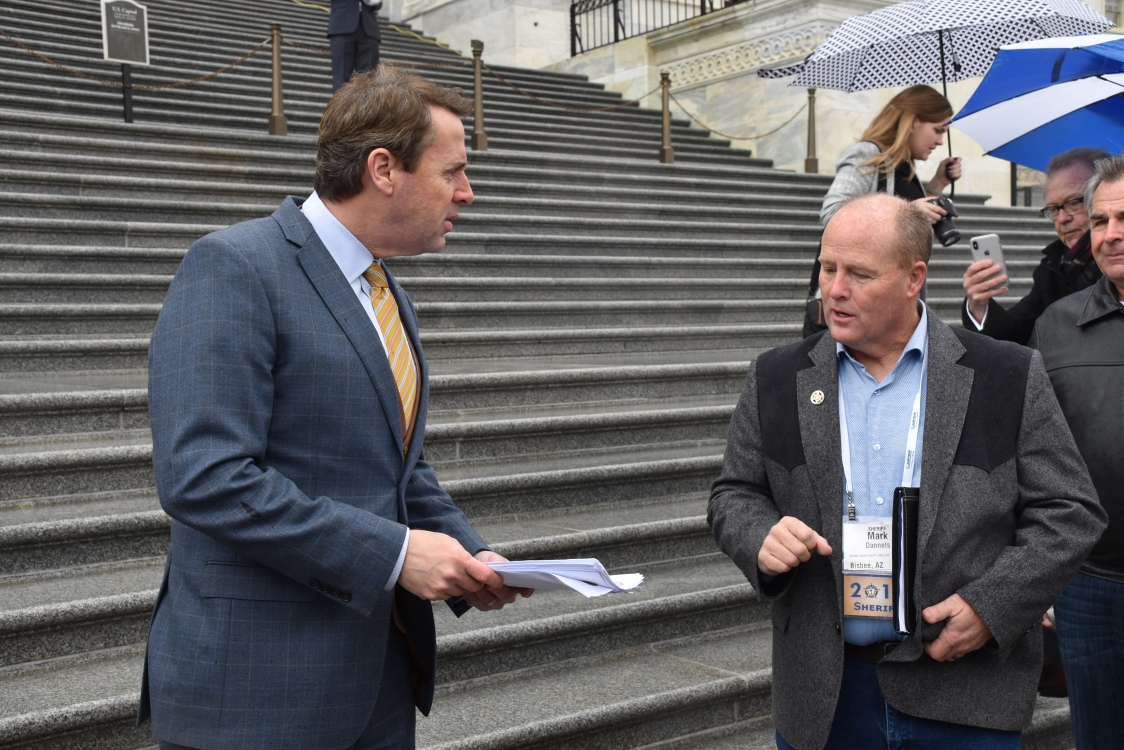 The Trump Administration asked for funding to support approximately 12,000 additional detention beds to bring the total number to around 52,000 beds, but as talks over border wall funding progressed, many Congressional conferees sought to limit funding to just 16,500 beds. In order to head off another partial government shutdown in February, the two sides agreed to funding that would sustain the current cap of around 40,500 beds.
"Any legislation that reduces ICE's detention capacity would hinder its ability to perform its national security and public safety missions, but also impact local law enforcement's ability to protect the communities they serve," the letter continues.
While at the Capitol, the sheriffs were greeted by Representative Mark Walker from North Carolina, a member of the House's Homeland Security Committee, who personally escorted the sheriffs through the Capitol before addressing them in the Rayburn Reception Room. He asked the sheriffs for their input on the issues around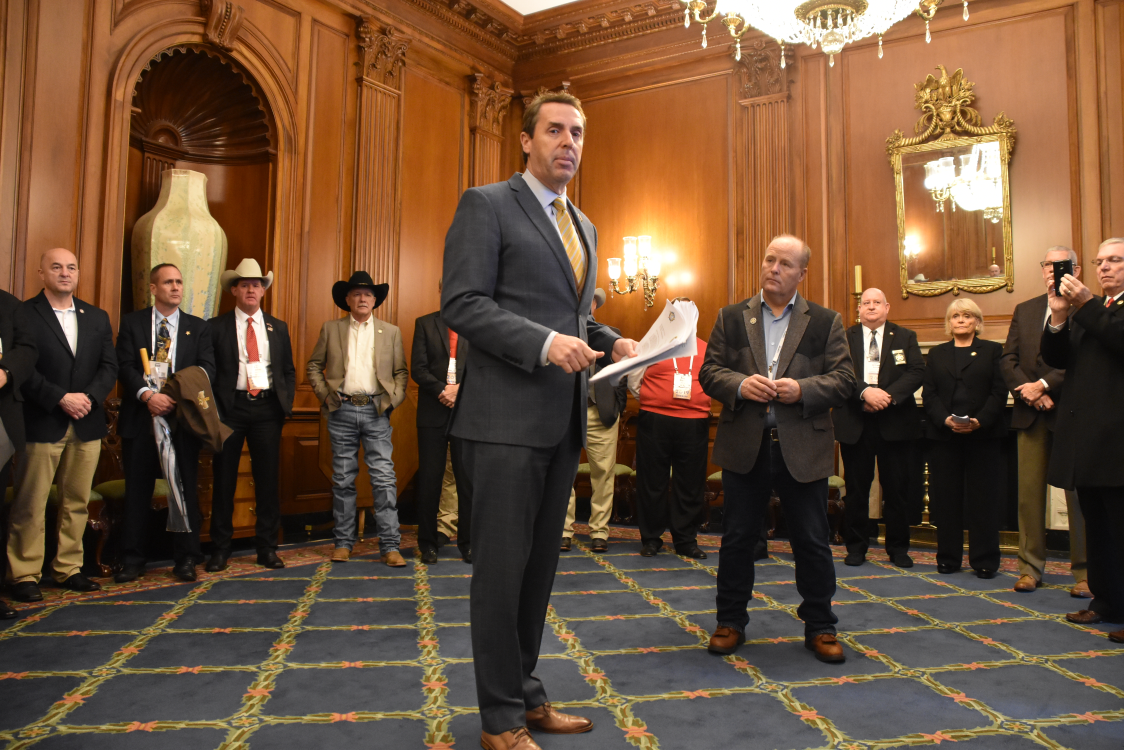 border security and how a lack of funding would affect their communities. At one point, Sheriff Mark Napier from Pima County, Arizona, took out his phone and showed Walker an image of the border in his community. "To your left is the United States of America and to the right is Mexico, there is nothing there," he said as he pointed to the area between the two countries. "It sounds like the message I'm getting from you guys is this is far less political as it is about protecting the United States of America citizens," Walker responded. "We care about humanity, this isn't a political issue," Arizona Sheriff Mark Lamb confirmed.
"We get lots of phone calls and emails, but there's no greater impact than people showing up and saying, 'This is what needs to be done'," Walker said as he ended his remarks.