NSA Assembles Criminal Justice Roundtable to Examine Building Community Trust
Thursday, August 25, 2016
Alexandria, VA – The National Sheriffs' Association (NSA) - for the second time - convened a Criminal Justice Reform Roundtable on Tuesday to focus on President Barack Obama's Task Force on 21st Century Policing and its first pillar goal of "Building Community Trust and Legitimacy."
With funding from the U.S. Department of Justice's Office of Community Oriented Policing Services (COPS Office), stakeholders from all facets of the criminal justice system were invited to the National Association of Counties in Washington, DC to share their plans and efforts for repairing the breaches in trust that exist between law enforcement agencies and the communities they serve.
"In that room were the intellectual leaders and practitioners of the nation's local law enforcement community," said Sheriff Greg Champagne, president of the National Sheriffs' Association and St. Charles (La.) Parish sheriff. "By working together – labor and management, victims' rights and community advocates, health care specialists and jail operators – the system can be improved by constructive reforms."
Last year, after several tragic events around the country, NSA invited criminal justice leaders to address issues of common concern at the NSA annual conference in Baltimore, Md. Leaders reconvened this year to share initiatives that are working to improve the justice system and share best practices.
This year, more than 35 leaders from around the country talked about strategies to improve the system, including improved law enforcement training, better communication tools and more effective methods of integrating law enforcement into their communities. Dr. Lorenzo Boyd, President of the Academy of Criminal Justice Sciences returned to moderate the second Roundtable where participants collaborated to identify and develop a training tool/template to aid with the implementation of the Task Force's recommendations within local law enforcement agencies. 
"As President Obama said recently in Dallas: We ask everything of our law enforcement personnel and little of ourselves, and that has to change," Sheriff Champagne said. "This task force is comprised of the key organizations to calm a restive country, and collectively we need to address hard questions of ourselves and our citizenry."
Representatives from the following groups participated in the meeting:
The White House, Department of Justice, National Sheriffs' Association, National Association of Counties, American Probation and Parole Association, Lawyers' Committee for Civil Rights Under Law, National Organization of Black Law Enforcement Executives, Santa Cruz County Sheriff's Office, Columbia, SC Police Department, National Criminal Justice Association, International Association of Chiefs of Police, Major County Sheriffs' Association, COPS Office,  Association of Prosecuting Attorneys, Koch Industries, National Association of Attorneys General, Pretrial Justice Institute, University of Maryland's Department of African American Studies, NAACP, Generation Opportunity, Justice Research & Statistics Association, Treatment Advocacy Center, Major Cities Chiefs Association, Charles Koch Institute, Laura and John Arnold Foundation, Federal Law Enforcement Training Centers and American Jail Association.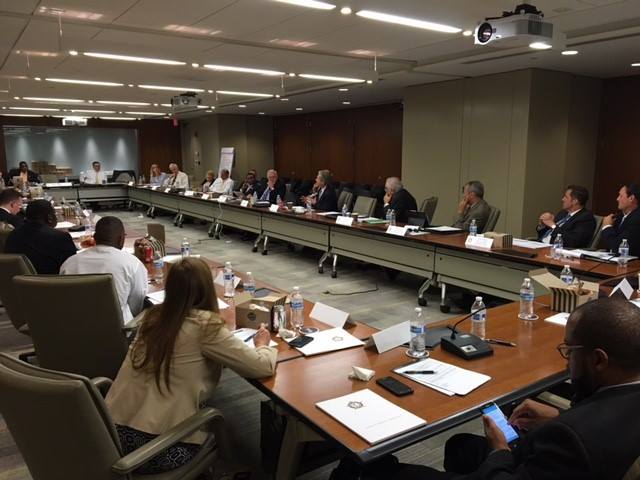 ---
About NSA
The National Sheriffs' Association (NSA) is one of the largest associations of law enforcement professionals in the United States, representing more than 3,000 elected sheriffs across the nation, and a total membership of more than 20,000. NSA is a non-profit organization dedicated to raising the level of professionalism among sheriffs, their deputies, and others in the field of criminal justice and public safety. Throughout its seventy-five year history, NSA has served as an information clearinghouse for sheriffs, deputies, chiefs of police, other law enforcement professionals, state governments and the federal government.